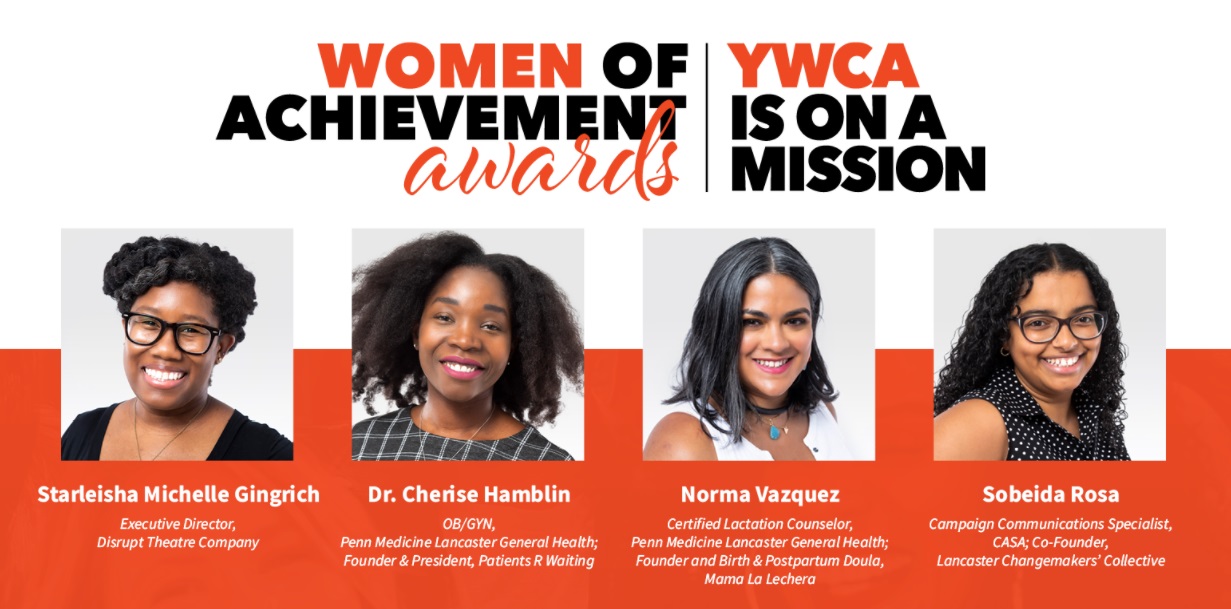 YWCA Lancaster this week announced the four honorees for its upcoming 5th Annual YWCA Lancaster's Women of Achievement Awards.
The four honorees are:
• Starleisha Michelle Gingrich, Executive Director, Disrupt Theatre Co.
• Dr. Cherise Hamblin, OB/GYN, Penn Medicine Lancaster General Health; Founder & President, Patients R Waiting
• Norma Vazquez, Certified Lactation Counselor, Penn Medicine Lancaster General Health; Founder and Doula, Mama La Lechera
• Sobeida Rosa, Campaign Communications Specialist, CASA; Co-Founder, Lancaster Changemakers' Collective.
Each of the women was nominated for exemplifying "both excellence in their careers and advancement of YWCA's mission through work or volunteerism," YWCA Lancaster said.
The nonprofit's mission includes the elimination of racism, the empowerment of women and promoting peace, justice, freedom, and dignity for all.
Rosa will be the inaugural recipient of YWCA Lancaster's new Cheryl Gahring Young Woman Award, for women 25 years of age and under. It is named for former YWCA Lancaster Chief Impact Officer Cheryl Gahring, who passed away in May.
The Women of Achievement Awards will take place from 10:30 a.m. to 1:30 p.m. Friday, Oct. 15, from 10:30 am to 1:30 pm at the DoubleTree Resort. The event will feature video profiles of each honoree and their achievements.
A virtual ticket option is also available and includes the full program streamed on YouTube; participation in the silent auction and access to a Q&A with honorees following the program.
For more information or to register to attend, visit the YWCA Lancaster website.