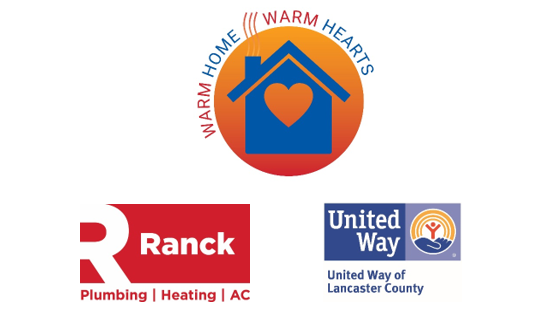 For the second year, Ranck Plumbing, Heating & Air Conditioning partnered with United Way of Lancaster County for "Warm Home, Warm Hearts." This program provides a free heating system to a deserving homeowner.
This year, Ranck installed a new high efficiency furnace in the home of Lynette Ehly from Ephrata after she was nominated for "Warm Home, Warm Hearts" by her mother.
"It means a lot, because I have been working hard at keeping the house up to date. I had a lot of trouble with the old furnace," Lynette said.
Most of the equipment was provided by community partners Conestoga Supply, R E Michel Company, Weinstein Supply, and L&L Electric, said Ranck's Jeff Good.
"We believe it is important to give back. It should not always be about that bottom line and that we make profit on something. When there is a need and somebody has a situation, it's nice to be able to reach out and help," Good said.
United Way of Lancaster County was glad to be part of Warm Home, Warm Hearts for a second straight year. "It's been great to be part of something that is helping somebody right here in our own county," said Barb Zercher, director of resource development.
Ranck and the United Way established 'Warm Home, Warm Hearts' program as part of their commitment to helping households in Lancaster County who are facing winter's chill without a reliable heating system.
In November and December, United Way solicited nominations for a deserving family to receive the heating system. Submitted nominations were judged by a panel from United Way, with one recipient chosen.