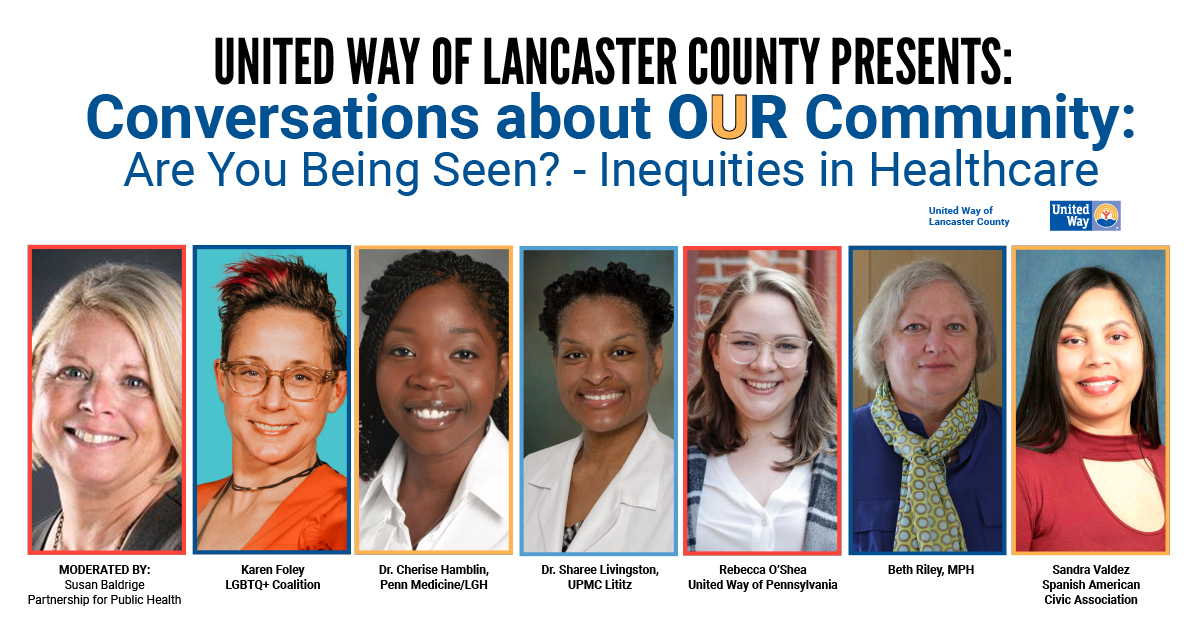 United Way of Lancaster County will host its third virtual community health conversation from 2 to 3:30 p.m. this Thursday, June 10, focusing on inequities in healthcare.
The discussion will focus on visibility in healthcare among minority and diverse communities. One way in which we hope to expand this conversation is by discussing negative impacts on communities beyond race, including LGBTQIA+ members.
We will begin with a presentation from Rebecca O'Shea, Advocacy Engagement Coordinator, United Way of Pennsylvania, about the United Way's ALICE framework and the ties to healthcare.
The panel will be comprised of local medical professionals as well as those who are in direct contact with or are a part of marginalized groups. The panelists will be as follows:
Karen Foley, Executive Director, Lancaster LGBTQ+ Coalition;
Dr. Cherise Hamblin, Founder/President, Patients R Waiting, Ob/Gyn, Co-Chair Diversity & Inclusion Advisory Council, Penn Medicine Lancaster General Health Office of Diversity & Inclusion, Lancaster General Family & Community Medicine Residency Program;
Dr. Sharee Livingston, Ob/Gyn Department Chair UPMC Lititz, Diversity Committee Chair UPMC Lititz, Board Member and Organizer, Patients R Waiting, Co-Founder, Diversifying Doulas Initiative;
Beth Riley, MPH, MSIA, retired Finance, Communication and Diversity executive, community volunteer dedicated to improving public health and equity in Lancaster County;
Sandra Valdez, Chief Operating Officer, Spanish American Civic Association.
The discussion will be moderated by Susan Baldrige, Executive Director of the Partnership for Public Health.
This virtual Zoom event is free and open to the public. To register, click here or use the link on the event's Facebook page.
"Our social, economic, and medical structures are imperfect, but we don't have to settle for that," said Kevin Ressler, president and CEO of the United Way of Lancaster County. "The conversation about how these issues are not just issues of social justice but also the economic well-being of the community will not end here, but this helps create a beginning place."
Previous forums in this series discussed county public health capacity and vaccine equity.
(Editor's Note: This article has been updated to add the full list of panelists.)