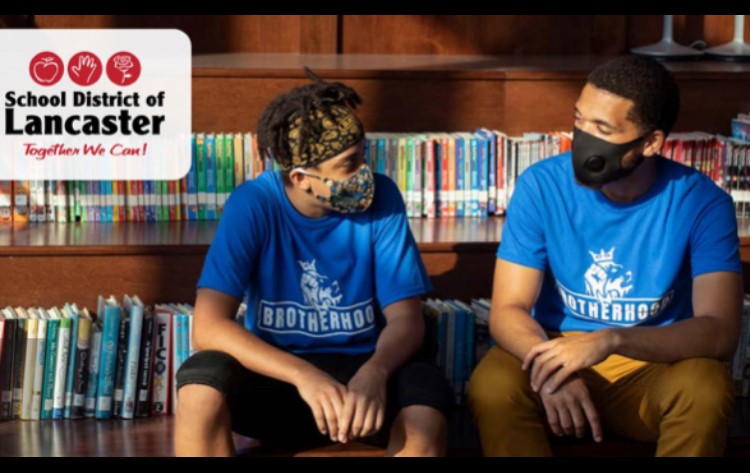 In fall 2019, the first pieces of a new mentorship program began to come together at Lincoln Middle School in the School District of Lancaster.
The Brotherhood Mentorship Program matches Black male sixth-graders with older Black men as mentors, said Erin Conahan, the district's coordinator of school, family, and community partnerships.
"The Brotherhood program was specifically designed to address the inequities regarding 6th grade black male students," she said.
Currently, it is the only program locally where black students are paired with a black male adult mentor, she said.
The idea came from the school district's design equity work, when data came forth that both in the School District of Lancaster and nationwide, middle school students who were Black males had a disproportionate amount of suspensions compared to their peers.
First, the district found two funding sources for the program, the Lancaster Education Foundation and the Pennsylvania Commission on Crime and Delinquency (PCCD), she said.
The district then consulted black leaders, pastors, and community organizers to get their feedback on the prospective program, many of whom signed on as volunteers, Conahan said.
All mentors completed FBI, state and child line background checks, along with a formal application and reference checks. They also completed a four-hour training prior to being matched up with a student mentee.
The program started in-person in January 2020 with nine mentors and about a dozen mentees from Lincoln. However, due to the Covid-19 pandemic, the program has been primarily over Zoom so far, said Conahan.
The pairings meet twice a month in the evening for activities such as talking together, working out, eating dinner and engaging in workshops about topics such as life skills and being a Black man in America, she said.
Dominique Miller-Shell, a paraprofessional at Lincoln, is the Brotherhood program's mentor liaison and leader. Below are his reflections on the program, as well as from two of the Brotherhood's mentors; TJ Griffin and Tony, whose last name was not provided.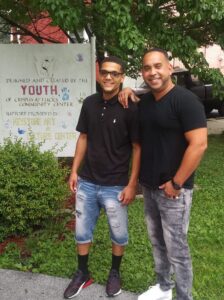 Editor's Note: The following interview has been edited for conciseness and clarity.
One United Lancaster: Tell me about yourself and how you got involved with Brotherhood.
Troy: "I am a native of West Chester, Pa. I had become involved with the youth at an early age, even before the onset of middle school and high school.
Since I did not attend college immediately after high school, I instead returned to my alma mater and offered the same activity services in which I myself participated over those four years: football, wrestling, track and field and musical theater.
Through those experiences also came the knowledge and further learning of becoming a peer mentor to fellow classmates that were younger than myself, to deal with simple life skill tactics that went beyond activities and competition."
TJ Griffin: "I am a former troubled youth and street kid who got caught up in the juvenile justice system at an early age. As an adult I am a youth mentor, program developer, entrepreneur and founder of The Vision Program and co-founder of Creative Hope Studios. Both programs work with at-risk youth and incarcerated youth."
Dominique Miller-Shell: "I am a paraprofessional at Lincoln Middle School, as well as the Mentor Liaison and lead of the Brotherhood Program. I am also a middle school and high school football coach.
I am the co-owner of Tru2You, LLC, a father, a husband, motivational speaker and an Artivist, respectfully. My purpose in life is to plant seeds into the minds of the next generation and hopefully whatever sows will impact my sons in future years to come.
The Brotherhood Mentorship Program has opened my horizon even more and gives me a fulfillment that I've never had before while working in the classroom or on the field due to the cultural significance."
OUL: What made you want to be a mentor in the program?
Miller-Shell: "I wanted to become a mentor because  I know how valuable they were for me growing up. I went to Lincoln Middle School and dealt with so many challenges outside of the classroom that no one seemed to understand until a man actually from York City established a cohort program that would meet once a month and change our lives for the better.
Ironically, I joined the Brotherhood to become a mentor and many of the mentors were actually mentors, coaches, clergy that have poured into me growing up.
Because of the influence I had on our mentees prior to the program, I was blessed with the honor to become the Mentor Liaison for this pilot program.
Troy: "I decided to become a mentor in the program as I felt led to participate and help some other youth that further needed my assistance and mentoring skills. It was also an opportunity to help give back to a younger community, some different things that I was not able to attain as a youth myself."
Griffin: "I needed a positive role model myself as a teen but turned to the local drug dealers and rappers as my mentors which led me down the wrong road for many years. I want to help other kids that find themselves in similar situations."
OUL: How was the experience of starting the program virtually?
Miller-Shell: "The resilience of these young men and their mentors is something we are all so proud of. We were the only non academic programming that didn't cease despite the pandemic and having to transition on Zoom. None of us were familiar with the platform yet, but our facilitator, Dr. Miriam Witmer of Millersville University, kept us grounded and inspired us to continue to do the work that was necessary for all of us to keep the momentum."
Griffin: "It was OK. We do what we have to do. We had some really nice virtual sessions but we missed the in-person mentorship."
Troy: "As you can imagine, working virtually has its perks and quirks, as many of the youth today are learning to not only communicate but also be able to function in the world of technology to help support their academics. Some of them have a knack in working with computers, while others do struggle quite a bit."
OUL: What does it mean to you to be a volunteer, especially for The Brotherhood?
Griffin: "It is an honor."
Troy: "Basically, being a volunteer has always been one of my life staples which is just been a natural thing for me to do. Helping others, especially those who have no opportunity nor any privilege to be watched over by someone that actually cares about them for their future growth."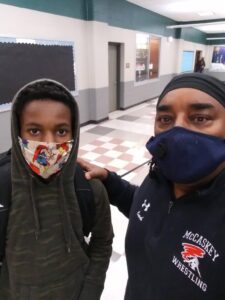 Miller-Shell: "Community service is so underrated. In today's world where everything is livestreamed or people are doing things for attention, it's very difficult for genuine people to get involved with something with so much purpose.
Our kids deserve us; Black men in real time as real models rather than role models, to lead the way by example and allow them to cultivate what it means to be a young Black man in the City of Lancaster."
OUL: What is your favorite part of Brotherhood?
Troy: "One of my favorite parts of the Brotherhood has been the privilege to actually see all of the boys interact with each other, from Day One up through now. Those who would barely utter a single word are now having full conversations with their peers and trying to problem-solve situations and ideas that come to surface regarding the program."
Griffin: "Teaching is about finances, entrepreneurship and building character as a young man."
Miller-Shell: "My favorite part of the Brotherhood program was our trip to Northbay Adventure camp. The boys and I stayed in a cabin for a week and learned so much about one another as well as ourselves as individuals. We were able to identify our strengths and improve on our weaknesses as a cohesive unit that was already intertwined prior to the trip."
OUL: How about a favorite thing to do with your mentee?
Griffin: "My favorite things to do with Leonard are having fun swimming, cooking out and playing football."
Troy: "I have enjoyed taking my mentee to other programs as well as spending leisure time at the pool and coaching him in football with his middle school team."
OUL: Do you have a goal for this program or a wish for your mentee? If so, what is it?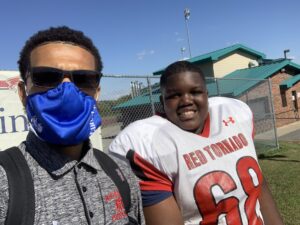 Miller-Shell: "The initial goal for the program was to lower disciplinary action and increase academic performance, but I think more importantly, we must establish a culture of leaders outside the realm of academia to truly make an impact."
Troy: "My mentor goal for this program is that it can eventually expand throughout the entire school district. My wish for my mentee is for him to continue to expand his knowledge and vocabulary, academically, as well as continuing to grow as a kind and respectful young man to represent our community-at-large."
OUL: What would you like people to know about Brotherhood or volunteer opportunities like it in Lancaster?
Miller-Shell: "An affirmation poem I wrote became our motto...
I'm a King.
I'm a Lion.
I believe in myself.
And
I'm worthy!"
Troy: "I would like it to be known that for as many different youth opportunities as there are in the city of Lancaster, this is definitely a very unique opportunity and style.
"I love how we can reach out to youth in our community and school district who might be struggling in some different areas in life to eventually take aspects of life and learning that they are developing both individually and as a group, and someday make a huge impact and greater difference in the world."
Griffin: "People should know how powerful it is to have mentors in a child's life and lucky we are as men of community to play even the smallest role in a child's life. It is a blessing and an honor to be part of The Brotherhood."
As for the future of the Brotherhood program? Conahan is optimistic.
"We are very excited about the success of the program, especially during a pandemic," she said. "The mentors served as critical resources for the students and families and everyone benefitted from the program. We look forward to expanding the program to other schools in the District and continue to grow it."