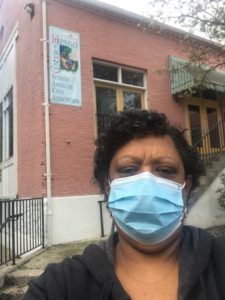 Across Lancaster County, nonprofit staff and volunteers are going above and beyond in response to the coronavirus crisis.
In an email sent to stakeholders Monday, Spanish American Civic Association President Carlos Graupera highlighted one example: the busy schedule of SACA's executive director, Jacqueline Fisher.
Here's an excerpt:
Dear Members, Friends, and Supporters of the SACA Family,

We are proud of our SACA employees because they always rise to the occasion. Right now, in the midst of our pandemic, our essential employees are on the front lines bringing their determination and compassion to their work. We want to let you know what a day in the life at SACA looks like for those employees right now. Our executive director is excited to share her day with you.

Name: Jacqueline Fisher
Tenure at SACA: 14 years
Education: Master of Human Services Administration, Lincoln University, Philadelphia
Areas of Expertise: Management, Procedures, Supervision, Substance Abuse, Detoxification Process, Mental Health, Claims-Medical Insurance, and Clinical Care, and Crisis Management
Experience: 20+ years of leadership within the social and human services industries
Hobbies: Swimming, reading, gardening

A Day in the Life: 
• 4:30 AM: The sun isn't up yet, but it's still time to rise and shine...and shower.
• 5:00 AM: I prepare coffee, turn on the news, and respond to emails that came in last night.
• 6:00 AM: I receive my first call of the day. It's from our psychiatrist to go over the tele-health appointments scheduled for the day. By 6:30, I have put the client list together and emailed it back to the psychiatrist. Our clients are in need of this service especially with the anxiety of the unknown factors surrounding COVID 19.
• 6:45 AM: I make breakfast for my son, and leave it out with a note to remind him to get online for school by 9am. I walk out the door to (physically) go to work. I always have coffee in transit and the caffeine starts to hit me half way there. I listen to Elvis Duran on 96.9 on my drive, his morning "phone tap" always makes me laugh before the seriousness of the day sets in.
I receive a call while driving, and I answer it with my hands-free headset. It's from an employee who has tested positive for COVID-19 and needs medical supplies. She's anxious as she has been in quarantine for 14 days already and now her husband is positive as well. She has a lot of chest pain and is coughing a ton. I console and support her, and I do my best to comfort her over the phone; I reroute to drop off supplies at her house. At 7:40, I finally enter our residential facility.
• 7:45 AM: I open more emails and check my voicemail.
• 8:00 AM: I listen in on a COVID-19 telehealth conference with our insurance company. I need to know what help we can offer to our employees and clients, and this is the best way for me to get that information.
• 8:45 AM: I receive a text from our kitchen – they need lids for our Community Meals food distribution. It's normal for us to bring meals to the community, but with this pandemic, we need to bring even more than we ever expected, and we're constantly running through supplies. I email them the order and requisition information for the lids.
• 9:00 AM: I drive to the kitchen on Pershing Ave. While driving, I call my son at home to make sure he's online taking his classes. Adjusting to this crisis has been hard on all of us, but I'm so proud of how he's adjusting to learning remotely. He misses gym, and his friends. Also while driving, I interview and accept a client for our residential program.
• 9:28 AM: Most of my day is spent on the phone, especially in our socially distant world. I start by calling a pharmacy regarding a client's medication. I hop onto a human resources conference call. I take a call from our mental health unit: they're fielding calls from new clients requesting treatment. We're working to schedule telehealth appointments for everyone who needs help. I talk with our COO about staffing patterns.
Finally, I participate in a conference on bridge payments during COVID-19. Insurance will estimate payments going forward which will help to keep services running. During the call, I receive separate call from our mental health therapist with questions on COVID-19. All in all, seven calls in two and a half hours. ...
You can read the rest of Graupera's message here, and learn about the rest of Fisher's day. You can donate to SACA through its website. You can assist the community-wide coronavirus response with a donation to Lancaster Cares, an emergency fund set up by the Lancaster County United Way and the Lancaster County Community Foundation.