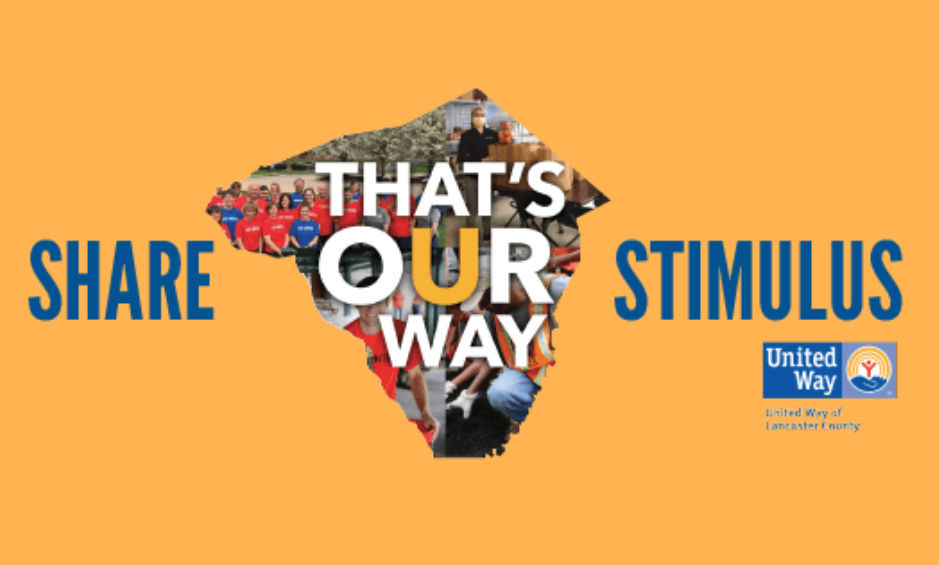 United Way of Lancaster County's Project SOS has continued to rally the community to raise funds for those who have been financially impacted by the pandemic.
The third round of stimulus checks has started to reach the American people, and in conjunction with an article in LNP newspaper, in the past week the Project SOS fund has raised an additional $43,711. Nine individuals and 64 families will benefit from these generous donations.
To date, Project SOS has raised $146,346.46 which includes $42,500 from catalyst sponsors.
Thanks to the following sponsors, the first $250,000 of community donations will go 100% to families without administrative costs to United Way:
Lancaster County Community Foundation: $10,000
Central Pennsylvania Food Bank: $10,000
Rodgers & Associates: $10,000
M&T Bank: $7,500
High Foundation, $5,000
Oaktree Outdoor Advertising: In-kind donation of billboard space
This translates to 241 individuals and families receiving direct checks from United Way to offset expenses that have been delayed or created due to COVID-19.
The response from the community have been overwhelming. Kevin Ressler, President & CEO of United Way of Lancaster County says:
"It is awe-inspiring to run an organization that advocates for people living under the economic constraints in inequitable systems of education, health, and economic development. In this case, COVID only adds to that. Our direct service programs and collaborative partners that bring tangible supports for our neighbors everyday. But, we have never forgotten our roots as an emergency response community chest, either.
"With our renewed call last week to share our stimulus we have seen $36,750 donated through Wednesday. So we are writing checks of $36,750 worth of $500 to qualifying individuals and families that will be mailed today."
Ressler continues to express his gratitude to the Lancaster community: "It is with great gratitude that I say thank you to our media partners, and our community members, who are so generous in helping those who have stumbled or fallen through the cracks."
As of now, United Way has paused applications. Its goal is to fulfill all remaining 182 applications and reopen again to new submissions if enough money is raised and Covid-related economic need continues to be significant.
As general guidance, United Way will be using the ALICE framework for determining financial eligibility. Roughly, as an example this means individuals making below $21,000 and families making below $48,000 as a household and are facing unexpected needs should consider applying.
To donate please visit uwlanc.org/Stimulus or send a check to:
ATTN: Project SOS/Sara Yoskoski
United Way of Lancaster County
1910 Harrington Drive, Suite A