As we exit 2021 — a year marked, like its predecessor, by political division, economic stress and a historic pandemic — we asked leaders of local nonprofits and other community organizations to share their reflections on the past 12 months and their hopes for 2022.
We hope their answers offer food for thought and inspiration for the year ahead. Happy New Year to you and yours from One United Lancaster.
Joe Arthur
Executive Director | Central Pennsylvania Food Bank
One word sums up 2021 for the Central Pennsylvania Food Bank and its partner agencies – resilience. The prolonged COVID-19 pandemic has given us, and the thousands of people we serve, no choice to but find a way to respond and adjust to misfortune and rapid change.
The pandemic shifted the economic circumstances for many thousands of our neighbors in Lancaster County and throughout central Pennsylvania. Higher bills and rising prices caused further strain for many more. We served more than 445,000 individuals last year, many of whom needed a helping hand for the first time, through our network of nearly 1,300 partner agencies in 27 counties. With the generosity of our communities, we provided 57 million meals by finding safe and efficient ways to share 74 million pounds of healthy, nutritious, delicious food.
Yet, as 2021 comes to a close, we know our mission of fighting hunger, improving lives, and strengthening communities is not yet accomplished. A different word will lead us into 2022 – hope. Resiliency helps us to endure, but reliable access to fresh healthy food inspires hope.
For the Central Pennsylvania Food Bank, hope has a strategy: invest in the infrastructure of local partners to increase our reach into more disparately impacted neighborhoods with healthier, fresh food; strengthen health care partnerships to promote "food as medicine" for our neighbors in need; and advocate for solutions to end hunger before it starts. One day, when the pandemic is behind us, central Pennsylvania will emerge with a resilient charitable food network that inspires hope for all in need.
Stacie Blake
CEO | YWCA Lancaster
Every morning, we got up and turned on the lights at YWCA Lancaster during a pandemic and with a mission that cries out for action.
Families faced unprecedented hardship and our building was a fortress of safety where we kept doing the impossible day after day.  We kept children safe, we supported survivors and working parents, and we gathered our strength for the next chapter.
Donors and corporate sponsors stepped forward from all over to ensure we knew our mission mattered and for that I am so thankful! My gratitude for the community, staff and Board of YWCA is boundless!  It is when we are challenged that the truth is revealed, and the most challenging year of my professional career has revealed the urgent need for change.
A year ago I asked the question, "Was Thaddeus Stevens the first Lancastrian to support the concept that Black lives matter?"   Whether or not he was first, he has been echoed recently by many leaders with statements that justice, equity and Black Lives Matter but some faded without action.  My hope for 2022 is seeing the words made real of our favorite son, an abolitionist who believed in women's rights and worked against Asian and immigrant discrimination nearly 200 years ago.  My hope is bold action countywide by leaders who are unafraid of creating racial justice, of denouncing white supremacists, of protecting all peoples access to the healthcare they need for their bodies.
YWCA Lancaster has one imperative, to eliminate racism. Let this be the year of courage and action.
Sam Bressi
President & CEO | Lancaster County Community Foundation
In many ways, 2021 was a year of incredible resilience, care, compassion, and generosity. It also seemed to be a year that amplified things that divide us. From politics to religion, social status to sexual orientation, we seemed unable or unwilling to find common ground.
My hope for 2022 is that you will join us in an effort to build bridges – bridges that strengthen understanding among those who are divided; bridges that find common purpose and common humanity; bridges that invite community members who seek to work together to build Lancaster's shared future – a future that welcomes and includes all and seeks to find value in our differences.
Christopher Dreisbach
CEO | Blueprints for Addiction Recovery
2021 was both thrilling and challenging. Even as we continue to face a global health crisis, there are families and individuals in our own backyard being blocked every day and kept from self-actualization and full recovery by institutional and systemic structures that have been in place for decades.
We've come a long way in shifting the substance abuse conversation away from criminality and into wellness, rehabilitation, and community health. Lancaster county leaders in criminal justice, law enforcement and healthcare continue to rise to the challenge of shattering the status quo, and I'm more confident than ever that 2022 promises tremendous progress.
We finally have the right people, the right resources, and the right vision to make Lancaster County an example of how to approach the addiction crisis the right way; how to restore hope and health and make communities whole again.
Justin Eby
Executive Director | Lancaster County Redevelopment Authority
I'm looking forward to the Lancaster County Housing and Redevelopment Authorities welcoming Lanc Co MyHome and integrating it into our operations, building on the good work the coalition has done and expanding our collaborative efforts within our new Department of Human Services. I think it'll help us tie together some of the different aspects of housing security in Lancaster County — the social services on the one hand and the construction side, expanding the affordable housing inventory, on the other.
On a personal note, I'm looking forward to taking a vacation with my family this coming year. Everyone at the authorities has worked so hard throughout the pandemic to help those who need housing. In 2022, I hope everyone has a chance to step away from work for a little while and spend time with family and friends.
Karen Foley
Executive Director | Lancaster LGBTQ+ Coalition
To honor one of the many amazing souls we have lost this year, here is some wisdom from bell hooks that keeps me going: "The moment we choose to love, we begin to move towards freedom, to act in ways that liberate ourselves and others."
We launched the coalition right before the pandemic hit, so it's been … something, but I'm grateful for the support we have received that has enabled us to offer direct service to our community. I am beyond overwhelmed by our success in the Extra Give this year. We raised $103,607, nearly three times what we made last year, ranking #28 out of 516 on the Extra Give leaderboard and #15 in number of donors (615 individuals).
Currently, with the support of Steinman Foundation, PNC Bank, Lancaster County Community Foundation, and generous individual donors we hired a full-time Program Director, Lindsay Murdock, who will oversee the expansion of our HEART Program, to offer more affirming subsidized housing to folks in the LGBTQ+ community. We look forward working with the incredible community partners we have joined forces with in 2022 when we will launch our exciting initiatives with a Community Hub and the Lancaster LGBTQ+ Health Consortium.
Words that I want people to hear for next year (including myself): "Cross fewer boundaries trying to explain your own. Betray yourself less than last year. Let people feel disappointment, frustration, etc. Letting emotions happen without seeking control or stasis too quickly allows us to meet each other in the uncomfortable real." - Prentice Hemphill
Oh… and check in, practice radical self-care … and when you can — step up and take action.
Rachel Helwig
Development & Communications Manager | Church World Service Lancaster
2021 has been a year – a year much like 2020 – and unfortunately, it's looking like this next year will at least begin in similar ways. Because of this, it feels hard to write about and reflect on this year in ways that feel hopeful and optimistic for the new one. (It's also literally hard to track time in years like this, so I don't always remember when things have happened!)
This year started off with the insurrection and continued to challenge us as COVID-19, social injustice, and inflammatory political rhetoric continued to spread. These are hard things to want to remember.
Professionally, it's also been a challenging year as we began with the lowest refugee admissions ceiling in U.S. history despite a global crisis of forced displacement. Then, in August, we all witnessed the fall of Kabul and mass displacement of Afghans, along with ongoing crises in Haiti, Burma, Ethiopia and around the world.
But I am writing this on my kid's last day of kindergarten before winter break – and that reminds me that we've had some successes. She made it through a term of anxiety and uncertainty in the face of continued COVID-19 impacts. Masked, vaccinated, and excited to make new friends and learn together.
I remember that together, we're all doing hard things that can have real impact. Together, we've provided homes and welcome to more than 170 new refugee and Afghan neighbors in Lancaster. Together, we've demonstrated that hate has no home here.
And this is my hope for the new year – that we keep caring and doing hard things together. We can care about each other as individuals and as a community. We can keep each other safe and healthy. And we can, and should, take care of ourselves and find ways to recognize the successes.
Alisa Jones
President and CEO | Union Community Care
Nearly two years ago, when our world, our nation, and our community was paralyzed with fear, I learned that people will rise when given a sense of purpose. Whether that meant donning layers of PPE to stand long and strong to help and heal others; rallying behind critical and local health needs by handmaking cloth masks and pulling together other essential resources to protect our communities; listening to, learning about, advocating for, and creating funding for lost income, housing, groceries, and other basic human needs that individuals were struggling to survive without; and recognizing and reaching out to struggling families, friends, and neighbors in both big and small ways when times were hard, dark, and hopeless.
I learned that we as people are all vulnerable. Courageous. Resilient. But more importantly, we are all human. And that means we are not perfect. We do not "have it all together." And we quickly forget those moments that surfaced, that broke us, that connected us, and that made us realize we need to do more to better ourselves, each other, and our world.
I hope that we as a community open our hearts to the 1,400 lives we lost in Lancaster County alone. Each life lost was loved and is now painfully missed. That range is wide, and it's deep. I hope that we as a community open our voices to brave work and tough conversations. I hope that we as a community open our minds to implementing a real Public Health Department, because no one should go without life-saving information, education, and healthcare. I hope that we as people re-learn to trust science and medical professionals, who were once hailed as "Healthcare Heroes," helping, healing, and creating a life-saving tool to help end worldwide suffering. And I hope that we as people continue to evolve and feel emboldened throughout these lessons learned to normalize equity.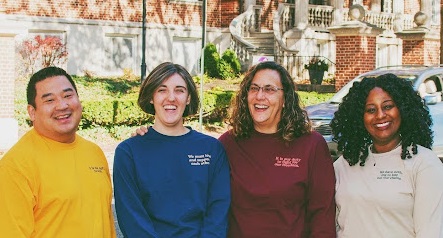 Leadership Team, YWCA Lancaster Center for Racial & Gender Equity
Jasmyne King, Director | Tess Feiler, Training Coordinator |Adam Hosey, Chief Equity Officer | Deb St. Onge, Director of New Choices
YWCA Lancaster's Center for Racial and Gender Equity was created in the middle of a pandemic to meet the needs of the community. In 2021, we worked with over 60 organizations to help them understand how we can build more inclusive and affirming spaces together. As national events had local impact, we were there to hold space for healing and community action.
As Zora Neale Hurston wrote in Their Eyes Were Watching God: "There are years that ask questions, and years that answer." While this year certainly asked many questions, we also had some startlingly clear answers. We must continue to work towards racial justice. We need partnership to build power because no one can do it alone. And there can be no liberation without joy.
This year was also a startling reminder about how rooted Lancaster County is to violence and oppression of systemically marginalized groups. A nationwide hate group chose Lancaster to host its launch meeting. An anti-government militia met in Manheim Township. We continue to have to advocate for the humanity of transgender people in our school boards and broader community. Entering 2022, we know what work has to be done, and it does feel overwhelming at times. But our mission to eliminate racism and empower women is clear, and we can't wait to work alongside you until justice just is.
Willonda McCloud
President & CEO | Bright Side Opportunities Center
Personally, I just try to be better than I was the year before.  However, my goal for 2021 was to get vaccinated so that I can go back to "normal."  Well, I am still waiting for "normal," but I did get vaccinated and boosted this year.
From a professional standpoint, my goal was to continue to serve our community and increase our ability to do so.  I am happy to say, we accomplished that goal as well.
Professionally, 2022 is already looking up for us.  We have plans to continue to provide quality STEM programming to the youth in our community and create new fitness programs that impact the those most effected by the pandemic.  Personally, I want to travel!
Paige McFarling
Executive Director | Lancaster County Food Hub
In the words of a well-spoken colleague, Vu, of the blog "Nonprofit AF," 2021 was rough.
"Things are not like they used to be," Vu wrote. "They haven't been for a very long time, and they likely will never be again. What remains unchanged, and what gives hope, is an unwavering vision of a just and inclusive world, and our resolve to make it happen despite the tides of inequity."
A vision of justice and hope is not possible without our collective efforts to make a difference in the lives of our neighbors. Reflecting on 2021, I am deeply appreciative of our human services sector and our supportive community, and I am truly grateful for the people in it. Even as our collective adrenalin capacity was slowly depleted, together we still set aside time and energy to be there for one another and for people who need us.
I'm not much of a new year resolution maker, but my wish for the coming year is a shared deep breath and clarity of purpose that allows us to place our energies where they matter. Politics, covid chaos, and uncertainty aside, I hope that each and every day we focus on simplifying access to the services that we provide that so many of our neighbors need.
Oh! And I really hope our volunteer elf will bring another rockin' vegetable Christmas tree in 2022!
Alice Yoder
Director of Community Health | Penn Medicine Lancaster General Health
2021 continued to show us that life is short and precious. I am so proud to work for an organization that always looks for ways to give life to its mission. This year highlighted our team's depth of caring, as they worked tirelessly and give their all to our patients and community, whether it was building our COVID-19 testing tents, implementing a contact tracing team, collaborating on one of the largest vaccination centers in the state, or providing day-to-day care for thousands of people in the hospital with COVID-19.
I am grateful for a community of people and partners that came together when faced with a significant challenge; for example, when the Black and Latinx churches and community groups advocated and provided access for people to get vaccinated. Together, we achieved remarkable things and found the strength to dig deeper.
As we look toward 2022, it's helpful to remember that the pandemic eventually will come to an end, as all pandemics do. I am hopeful for a new year energized by the caring roots of so many in our community, who despite our differences, strive to live by the philosophy of "love thy neighbor" – all of them. If we push ourselves to envision a better future, focus on what is within our control, and believe we can do something about it, Lancaster County will continue to be a safe, healthy and vibrant community to live.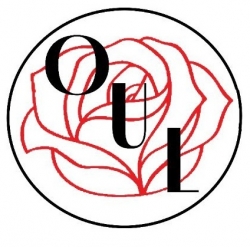 Latest posts by One United Lancaster
(see all)