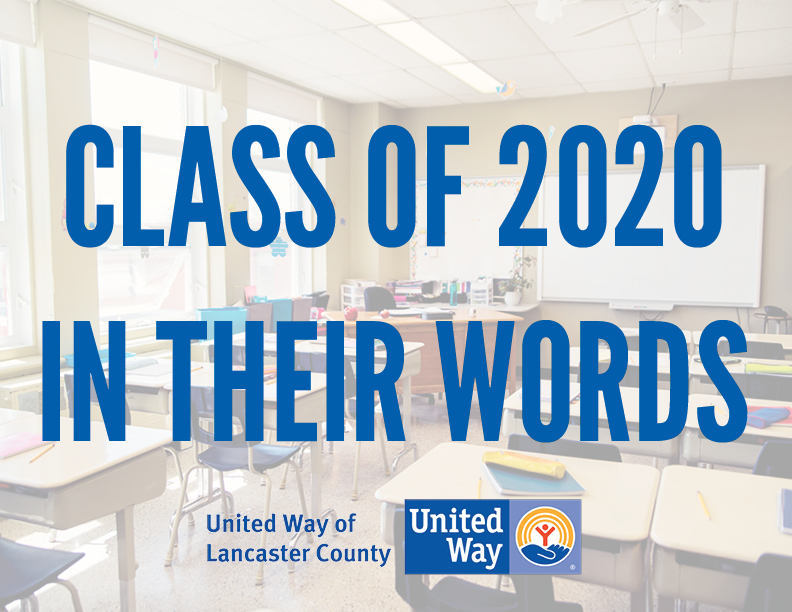 The 2019-20 school year has been unlike any other. As the school year comes to a close, OneUnitedLancaster invited local educators, students and their families to reflect on the past school year, in their words...
It Wasn't Supposed to End Like This
This was to be the year of hope, of promise and reflection. This was to be the year where you remembered the past and planned for the future. This was to be the year we celebrated the lasts and started marking new firsts. It wasn't supposed to end like this.
The first day of school last August marked the last first day of school day your mother would bake chocolate chip cookies. No worries, though, for I am sure you will still get chocolate chip care packages in college. But it was one of those first day traditions that we celebrated every year. From your first day of elementary school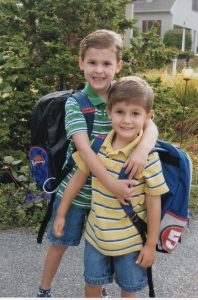 together, we have taken your picture at the same spot - the tree beside the garage at the end of the driveway. As you grew, so did the tree. To mark your last first day of school, I had the two of you assume the same pose as you did in that very first picture. And I cried, for those two little boys no longer existed. Their heart, their souls and their essence still existed, only now they lived within the physical bodies of these two young men getting ready to begin their senior year of high school.
Your senior year progressed as we would anticipate, marking familiar milestones like the last football game and Homecoming weekend. We ordered your cap and gowns, yearbooks, and senior pictures. Christmas was made even more special this past year, hoping that this wouldn't be the last one we would all celebrate together as a family, but also recognizing the importance of truly enjoying moments such as these for as we all grow older, they will, at some point in the future, become less possible to gather everyone together. At the start of the new year - 2020 - it became even more of a reality that this was the year we know you had looked forward to for so long. For your mother and I, however, it meant that our time at home with you was growing shorter, and we longed for more time to spend together with you. Oh, how we had no idea how soon that wish would come true.
By the middle of March, the world, in essence, stood still. Life, as we knew it changed, but life itself did not stop. For the first time in years, though, we were together as a family, without having school to attend, jobs to get to, tennis practice and matches to cheer for, and other social events to attend. We actually sat down to dinner together, all at the same table and at the same time. We had never had to use the dishwasher so frequently as we did throughout the months of March, April and May! We played cards - lots of cards, and put puzzles together and binged Netflix. And yes, we cannot deny that Tiger King became the family viewing hour.  Your mother and I cherished the gift of time that we were given to spend with you, yet although we knew this was time we never would have had in a non-pandemic world, we also knew that it meant sacrifices you had to make, unwillingly, not realizing how long it would last and the impact it would have on your rites of passage.
Initially, we all hoped you would have the chance to return to school and experience those moments that come with the end of your senior year of high school. As time went on, however, we began to realize that the likelihood of those events occurring were becoming less and less. And then ultimately, we learned you would not be returning, and our hearts broke again, for you were left to mourn the loss of events you never got to experience. In one sense, we found comfort that maybe it wasn't as great a loss as we might think, because we, as adults, knew the importance of prom and graduation, for we were fortunate - we celebrated those events in our own lives. You knew of them, but it was not as if you celebrated those events previously, so maybe it wouldn't be as bad as we thought. However, a loss is a loss, and this was an opportunity that would not present itself - at least not as it was intended to be - in the future.
Although it may exist in one form or another in varying capacities, there is no official handbook on how things like this are to be handled in a worldwide pandemic. Thinking outside the box can lead to creative and unprecedented ideas.  However, in this case, there was not even a box to be had. We had to invent the box. School districts had to creatively think of ways to adhere to the legalities of the times yet still acknowledge the importance of events such as prom and graduation.  Some things could not just be held, others had to be left to parents to make appropriate determinations, but in the end, you had the chance to walk across a stage to get your diploma. It was not in front of a crowded auditorium, nor was your entire extended family there to cheer when your name was called. However, consider yourself blessed to have had the people present who were there to witness this moment in your life. You will learn as you continue to grow that life is simply a collection of moments, and for some of those moments, the journey is just as important, if not more, than the actual destination.
You had no idea that Friday, March 13th, 2020 would be the last time you would be together as a class. In reality, chances are that, best intentions aside, you may never all be together again as a senior class. However, no matter where you go and what you do, you will always be a part of the Class of 2020. Regardless of whatever high school you attended, the events of this year will always unite you as a class of millions like no other class before you.
Before I end, I want to share a few words with you that I also shared with my class of first-graders. As both a teacher and a parent, I have been allowed the opportunity to see this situation from two different perspectives, yet the advice I give is the same. We can focus on what we did not have the chance to do, or we can choose to focus on what we have: most importantly, our health, our safety, our families and our futures. Although I did not have the opportunity to teach you everything I wanted, it is my hope that you leave my classroom (in this case, our home) knowing two very important things, and neither of these you will find in any of our reading books or math lessons. The first is to always remember what I would ask of you -- to always try your best, for I could never ask anything more of you. If you attempted something, I would always ask you, "Did you try your best?" If you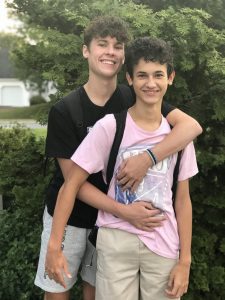 answered "yes," then I knew that was the best I would get out of you. Even though you could have told me "yes" when you knew that wasn't the truth, you would sometimes answer me "no." It was at those times I appreciated both your honesty and your willingness to try again. The other thing I want you to remember is something I pointed out to you the very first day of school (in this case, your very first day of life), and it hung on the board in front of our classroom every day for the rest of the year as a reminder. No matter where you go in life, and no matter what you do, always remember this – You Are Loved.