A central theme of Tiffany Shirley's life and work is creating safe spaces in all that she does.
Whether in her job at Smiles by Stevens, as a mother, or as the recently appointed president of Lancaster Pride, Shirley, 33, is committed to creating spaces where everyone can feel comfortable and accepted.
One United Lancaster recently sat down with Shirley to talk about what's new for Lancaster Pride in 2023, her passion for inclusion and how dentistry intersects with Pride.
The following interview has been edited for clarity and length.
OUL: Before we jump into your new role as president, can you tell me a bit about your previous involvement with Lancaster Pride that led you to this role?
Shirley: I used to always just be a [Lancaster Pride] frequenter: I just went and enjoyed the parties. But last year I saw that Pride needed an event coordinator and I have some experience in event planning.
At first, I kind of said, "Oh, I want to support my kid," because my kid is genderfluid and I wanted to support her. Secretly, I was still kind of figuring myself out internally.
OUL: Where has that journey led you, if you'd like to share?
Shirley: I am married to a cisgender male, but I do consider myself pansexual. My thing is, I just love everybody; I don't put a label on it.
My mom passed away in May and is very much the opposite of me. I just kind of suppressed things because I didn't want to make things complicated with my mom. So now it's weird; I feel kind of liberated a little bit, even though I miss my mom dearly.
I think for the first time in 33 years, I've figured out who I am. And I'm really grateful that my kids grow up in a time where they can be who they want to be. My kids know that they can tell me anything and my husband and I will support them no matter what.
OUL: How has that informed some of the work that you've done so far with Lancaster Pride?
Shirley: I was very intentional when I planned events last year to do family-friendly events and transgender events, because the trans community is still probably the most hated community by people outside the [LGBTQ+] community. Trans people just get it tough and it breaks my heart to see my trans friends and family get treated like that.
I was very intentional to make safe spaces. I say that a lot and I think people laugh at me, but I want people to feel safe and included at all my events.
It kind of trickles into the Pride Festival itself, because we did a survey after Pride last year and some groups in the community didn't feel supported. I don't want anyone to feel that way, so I'm making sure that these groups that voiced their concerns are heard and are seen at the next Pride or any other events that we have.
OUL: Have those goals of inclusivity influenced any of the plans you have as President for the coming year?
Shirley: We got a new venue; that screams volumes, right? We're going to be at the Lancaster County Convention Center this year on June 17.
Clipper Magazine [Stadium] was a great venue when we only had 1,000-1,500 people come. But last year it was over 5,000 and unfortunately, we had to close the gates even though we still had a line around the building.
We're "damned if we do, damned if we don't" because do we let people wait in line for three hours and then Pride's over and they're heartbroken or do we say "Hey, sorry, you could stay in line but we can't guarantee you get in?" It was really upsetting to people and their feelings are totally valid.
OUL: By having Pride at the Convention Center, what will be some of the new changes or additions to the event?
Shirley: At the Convention Center, there's more accessibility with elevators. At Clipper there is only one elevator and then when people got down to the bottom of the stadium, it was all sand. If you're in a wheelchair, it just sinks right in, so a lot of people couldn't enjoy the vendors that were down there.
Thankfully at the convention center, we have plenty of elevators and escalators and pretty everything is on the same floor.
Food was also an issue. We had a vegan option at Clipper last year, but it was outside the stadium so then it got tricky because people left to get food and they couldn't get back in. We're in the planning stage of how to make sure everybody has something to eat: vegetarian, vegan, gluten-free, etc.
There will also be a whole stage area where people can sit and watch the entertainment. And the best part is, in the convention center, we can do Pride rain or shine!
OUL: How will this affect the number of attendees and vendors that will be able to come?
Shirley: I think we had 175 vendors last year. We do have to cut down on vendors a bit this year because of spacing, but we are looking to have a stage in [Penn Square] and maybe get some vendors out there if they want to be outside.
On the plus side, if a vendor isn't able to work with our event, Lititz Chooses Love is having their Pride event that same day. Vendors are kind of adapting to do both events because this is the prime time for a queer vendor or small business to flourish. We don't want to turn anybody away.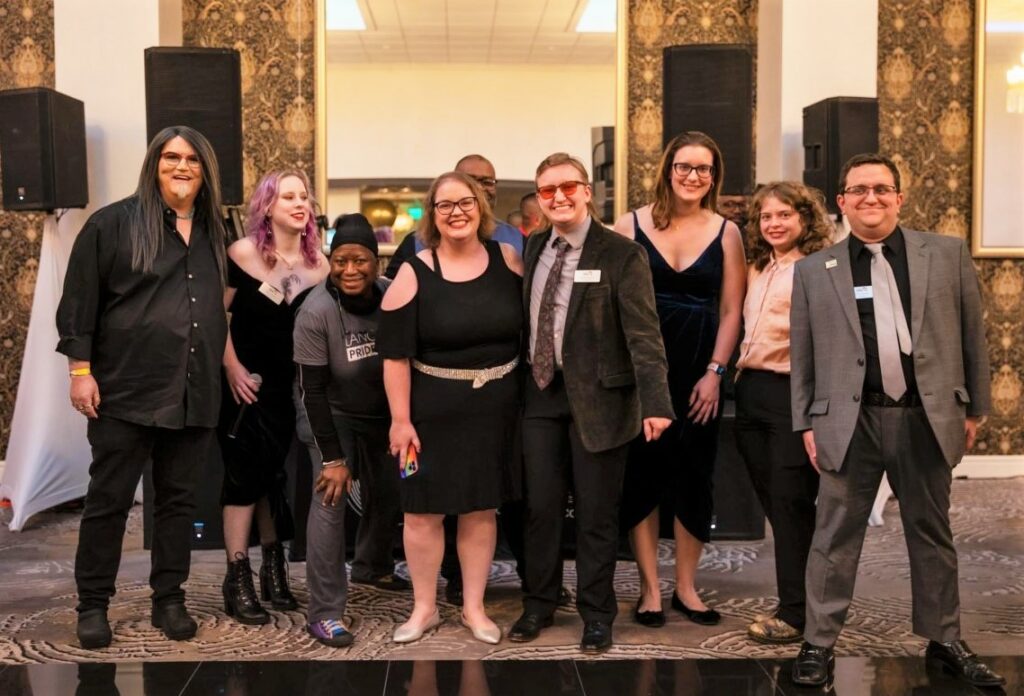 OUL: How many people are on the Lancaster Pride board?
Shirley: There's 15 of us, including me, and we all do it on a voluntary basis. Every person has a job and they really kick butt at it. I'm so proud of my board; I really do appreciate them, and Pride probably would not happen if it wasn't for them.
We also have new people on the board this year. Sarah [Popovich], who's my replacement for event coordinator, has some really big things in the works and I'm so excited. We also have a new secretary, [Alayna Mahoney], treasurer, [Jeff Roane], and a new member-at-large.
I stepped into some big shoes, too. Thankfully, Alex [Otthofer], who had been president since 2019, is my friend and is only a text away. He's also staying on as an advisor for the board so he can take a break, but still be involved. I'm grateful to have him.
It was always always a joke, when we knew Alex was stepping down, that people would say, "Tiff, you should be president." and I'd be like, "Haha, you're crazy." But then my vice president, Mickey Dawson, told me that he was going to run for vice president and I was like, "You know what? I have a vice president. I think I could get president."
But again, I would not have ran for president had I not had such a great board. I'm excited to see what the next two years will bring.
OUL: So is each position a two-year term?
Shirley: Yes, each term is two years, but you can stay in the same position for up to four.
OUL: Besides the actual Pride event, are there any other upcoming events that people should know about?
Shirley: We do our pageant in April, when we elect our new Mister or Miss Lancaster Pride.
Then of course we do an event every single week in the month of June. Like, we had "Pride at the Park" with the Barnstormers, which is something I hope we can do again. This will also be the third year of the Pet Parade.
I think my favorite event we did last year was the Pride Pool Party. We partnered with Lancaster Rec and used the pool at Conestoga Pines. People brought me to tears because they just were so excited that they could go to the pool in a bathing suit that they felt comfortable in without being judged. We want to try to do multiple pool parties this year.
We're also going to try to do a Pride Float down the Conestoga River. I'm hoping we can do tubes because tubes are a little bit more accessible.
We are trying to be intentional to do something once a month, because we don't want people to think Pride is just June. We want to give people that fun space and time.
OUL: Are there any events that you would personally like to see?
Shirley: I really want to work on a queer variety show. How fun would that be? Like if you want to try drag for the first time and don't have a venue to do that, I want to be able to make that space for someone.
OUL: It's clear that you're very passionate about Lancaster Pride and the aspects of it, but what are some things in other parts of your life that you're passionate about?
Shirley: Ironically, dentistry. Technically my title is Expanded Functions Dental Assistant, and I just went back to school last year to do that but I've been in dentistry for over 10 years. So basically, the doctor comes in, preps the teeth, then I do all the fillings and smooth everything.
We do a lot of full mouth rehabs, so people who have closed bites, a lot of decay, abscesses, things like that. We give people a whole new smile.
My big passion in dentistry is that whenever someone comes in and tells me that they don't want to be here, or that they're terrified of me, that they leave here smiling and happy and comfortable. So in both of my jobs I always want someone to feel safe and happy.
OUL: To wrap up, is there anything else that you want people to know about you or Lancaster Pride? Are there any ways that people can support you and your work?
Shirley: Yes, we're always looking for people to join committees to support my board members. If they don't want to do that large of a commitment, they can still volunteer. We always have events where we need volunteers, especially ExtraGive and Pride.
We will always post about volunteer needs on our social media, but people can also go to our website and say that they're interested in volunteering and my volunteer coordinator, Evan [Rowell], will get them involved.