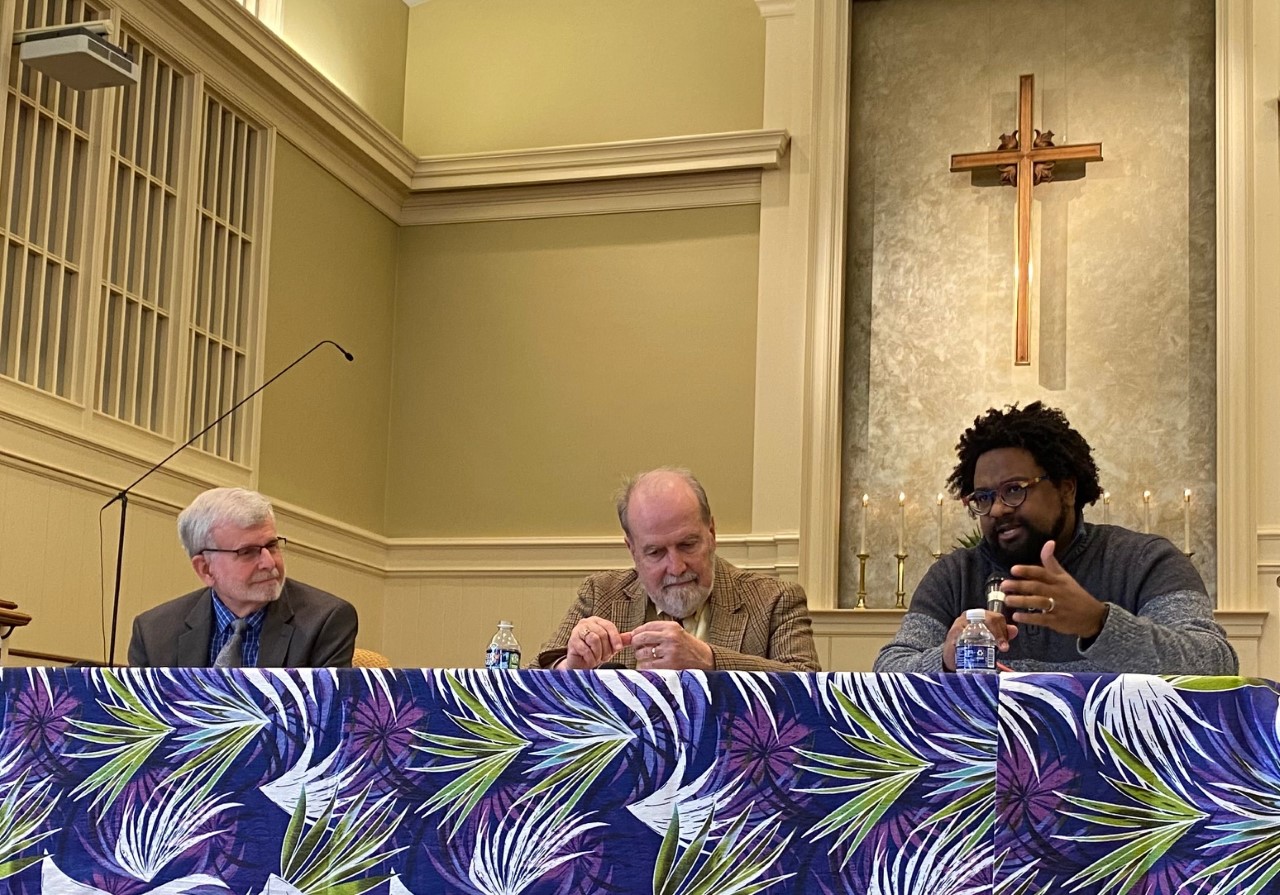 Grandview Church hosted three local scholars of religion on Sunday for a "Christian Theologies on War and Peace" discussion, organized in large part in response to the conflict in Ukraine.
Lee Barrett, professor of Systematic Theology at Lancaster Theological Seminary, opened the discussion with comments about the elements of war, such as coercion and the point that wars are declared by governments and authority groups, not common citizens.
Kevin Ressler, president and CEO of United Way of Lancaster County and adjunct professor of church and social change at Lancaster Theological Seminary, asked the audience to clench their fists as hard as they could, then note the residual pain that lingers after unclenching.
"There is no greater symbol for war than a clenched fist," Ressler said. "War ... does not end with the cessation of violent acts; it reverberates beyond."
Barrett went on to discuss "holy war," a concept stemming from depictions of a wrathful God in the Bible's Old Testament in which carrying out violence in the name of the Lord was divinely commanded and thus justified.
There have been many historical conflicts and wars in which both sides believed that they had been called by God to vanquish the other in a "holy crusade," including the American Civil War, said Barrett.
Barrett outlined Just War theory, which was created by Augustine in 4 A.D. and which is a "very widespread Christian attitude toward war." Qualifications for a just war include beginning conflict as a last resort and not killing civilians.
Of course, those qualifications are never met, at least in large-scale conflicts such as the violence currently unfolding between Ukraine and Russia. This brought up the discussion of Christian realism versus pacifism in the face of conflict.
Barrett, who is Methodist, said pacifism, which calls on believers to practice nonviolence, is not realistic in today's cultural setting.
"You have the right to turn your own cheek," he said. "But you do not have the right to do that for your neighbor. If your neighbor is attacked, you have a Christian obligation to defend your neighbor and that very well may be something violent."
Gene Miller, retired professor of history at Penn State Hazelton, brought up an example of the conflict of moral duties: The case of Dietrich Bonhoeffer, a prominent pacifist who lived in Germany during World War II.
As someone committed to nonviolence, Bonhoeffer knew that he could not fight in the army. However, he also knew that if he refused the draft, he would likely be sent to a concentration camp or killed by the state. While he ended up having to do neither, he was part of an organization that conspired to kill Hitler in hopes of ending the war.
Ressler, who is Mennonite and pacifist, pointed out that the idea of eliminating Hitler to stop World War II implies that no one else in the Third Reich agreed with his agenda.
"There's this inevitable hypothetical question that always comes up: 'Well what would you do about Hitler?'" he said.
"But the reality is that presumes that in assassinating Hitler what you get isn't worse. There's no certainty of that. So, what is more important is proactive, not reactive, peace posture."
Miller said wars have grown to cause much more physical damage over the past 120 years. Historically, he said, more people have died from disease during wartime than in combat.
The panelists discussed what people can do now, particularly once conflicts are already under way and the time for peaceful negotiation has passed, such as in Ukraine.
"If I was to come up with a Just Peace theory, I'd say that in the conflict you're in right now is how you begin to address the next one," Ressler said.
Though Barrett agreed, he also returned to the idea of Christian Realism, saying the right option in this present conflict is the one that results in the least amount of human suffering, which is often not a peaceful approach.
The event concluded with several questions from the audience, including one about the panelists' opinions on the use of nuclear weapons during warfare.
All three agreed that nuclear weapons were never an appropriate response to conflict. Nuclear weapons are condemned in Just War theory, said Barrett, because they cause civilian casualties and are not a proportionate use of force.
The event saw a small crowd of around two dozen attendees and was moderated by Grandview's the Rev. Liz Fulmer. The full recording can be found here.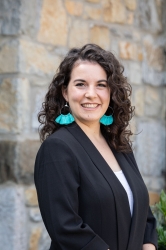 Latest posts by Olivia Smucker
(see all)