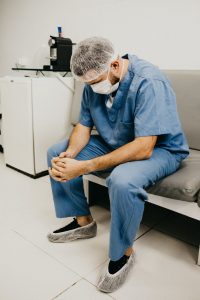 COUNTY TEAM SKILLED IN TREATING PTSD IS PREPARING TO HELP THEM
It's a health issue brought on by the COVID-19 pandemic that has received little attention so far. But in the nursing and personal care homes across Pennsylvania, deep stress and trauma among nurses and other staff are real and present issues.
In these homes, nurses and aides build close relationships with the men and women under their care over the course of months and often years. They know their residents' histories, families, likes and dislikes, habits and beliefs. For those patients whose spouses are gone and children live far away, the staffers who bring their meds, help them dress and walk with them to the dining hall are their family.
So when a resident falls ill or dies, the nurses and attendants feel the same sadness that anyone feels when a close friend or relative passes on. When the deaths escalate far beyond normal, the situation is traumatizing, said Michele Tornabe of Mt. Hope Nazarene Retirement Home. Eight patients have died during the pandemic in its 50-bed facility.
"What the news media does not see or report on is that we are deeply and genuinely saddened to see these residents depart from our home where we have loved and served them," Douglas Motter, president of Homestead Village, said. "They are more than patients to us – rather, they are a beloved part of (our) family."
Claire Rodriguez, a nurse in the dementia unit there, described the difficulty of dealing with the dying at a Senate hearing last week. "I really know my residents, and to see them decline is heartbreaking for me," she said. "I have become close with their families. I have a resident that died a few weeks ago whose family still calls me. We can share the pain together.
"Many days I sit with patients who are critically ill, and I just encourage them,'' she said. "I hold their hands and cry."
At the end of a patient's life, family members come to say good-bye, she told the senators.
"Many have health issues that prevent them from coming in the room with someone who is COVID positive," Rodriguez said. "They spend time right outside the room and watch as I try to share their love with their family member.
"It should be no secret that giving care is tough,'' the nurse said. "COVID has made this so much tougher."
Jonathan Hollinger, CEO and president of Pleasant View Retirement Community, said young staff are experiencing more difficulty than senior staff. The young staff are traumatized, he said, with a lot of sadness and weariness among their ranks.
The stress of dealing with residents who are fighting for their lives, often winning but sometimes dying, takes a toll on the entire staff– personal care aides, home health aides, licensed practical nurses, medical assistants, registered nurses, cooks, cleaning staff and administrators.
Doctors who have dealt with post-traumatic stress disorder among veterans and law enforcement officers see parallels to what COVID care staff are facing. Some are beginning to write about steps local government can take to lessen the stress and long-range strategies to deal with traumatized nurses after the pandemic fades.
In an April 28 article in The Medical Futurist, a professional journal, Dr. Michael Duffy wrote that it is essential that medical staff have high quality personal protective equipment so that they feel safe doing their jobs. Without it, he said, some may not be able to cope with the psychological challenges of their work.
The National Center for PTSD says it is crucial that nursing home administrators and government agencies anticipate the stress that healthcare workers experience when providing care to COVID-19 patients. It recommends close communication between home leaders and workforce staff, appropriate work/rest schedules, and recognition of the needs of staff's family members.
In Lancaster County, fortunately, there are mental health professionals who have helped police, fire fighters and emergency medical personnel deal with the trauma of gruesome or high casualty events.
The Lancaster Critical Incident Management Team uses trained volunteers to help first responders recover after dealing with mass shootings, loss of life in hurricanes or flooding, and other natural disasters or civil disorders. These volunteers provide "psychological first aid" so that frontline emergency workers can resume normal, healthy functioning lives.
While the COVID-19 pandemic is far from over, local leaders already are planning how to help nursing and personal care home workers deal with the impact of their many months of trauma-inducing work.
Dr. Kenneth Ralph, the clinical director of Lancaster CISM, said that its executive committee will explore the issue at its next meeting on May 18. County Commissioner Ray D'Agostino said the county is aware of the issue and intends to address it.