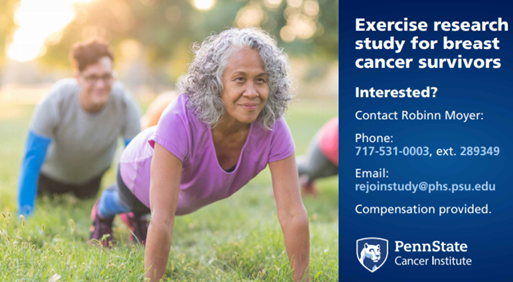 (Editor's Note: Penn State Cancer Institute has asked Lancaster County Office of Aging and other Area Agencies on Aging in central Pennsylvania to help them identify interested breast cancer survivors to participate in an exercise research study. The following information comes from the institute.) 
Penn State Cancer Institute researchers are asking women ages 60 and older who have recently completed treatment for breast cancer to participate in a study called REJOIN (Using Exercise to Relieve Joint Pain and Improve Aromatase Inhibitor Adherence for Older Breast Cancer Survivors).
Funded by the American Cancer Society, REJOIN will help researchers understand if age-appropriate education and exercise can reduce joint pain. Joint pain is a common side effect of taking aromatase inhibitors or hormonal therapy medication for breast cancer.
Who can volunteer?
Women ages 60 and older
Completed surgery, radiation and chemotherapy for stages 1-3 breast cancers
Prescribed aromatase inhibitors in the past 24 weeks
Currently exercising less than 150 minutes per week
Have physician approval to start exercise program
Able to complete forms and understand English
Additional criteria may apply.
What will I do?
Eligible participants will be asked to visit Penn State Health Milton S. Hershey Medical Center in Hershey for four study visits over the course of a year.
Complete physical function activities and surveys.
Record exercise between study visits.
Randomly selected participants will attend group exercise sessions twice per week for eight weeks via video call.
Compensation
Compensation is provided for eligible participants. Participants have the potential to earn up $160 if they complete all visits/surveys and return the accelerometer (provided by the research staff) each time.  The payment is made in the form of a Greenphire Clincard, which works just like a debit card.
Learn more
For more information about REJOIN, please contact Robinn Moyer: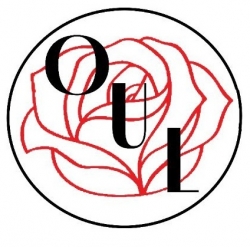 Latest posts by One United Lancaster
(see all)