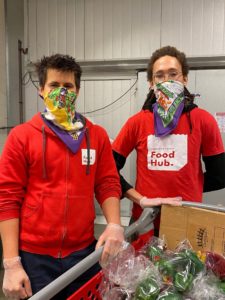 I am not on the front lines of the pandemic. I am lucky enough to have the opportunity to serve the community by staying at home. Though, if I'm being truthful with you, it took me some time to realize it is indeed an opportunity.
As a helper by nature and a textbook "doer", I grappled with the stay-at-home order. I could not go out and volunteer, nor be in-person emotional support to family and friends who are on the front lines; simply, I felt I could do nothing. I know and sincerely believe that flattening the curve is critically important – but it feels admittedly, abstract.
Luckily, we live in Lancaster, a community that prides itself on doing good work in a unique way; we are world-renown for our hospitality and our innovation. A key part of innovation is finding opportunity where others see none. When stability and resources can easily feel scarce, Lancaster has proved that this moment is an opportunity to seek out abundance.
Leadership Lancaster thrives on working in-person to connect, educate, and inspire our community to be actively engaged, and community engagement is what has uniquely built Lancaster to be authentically empathetic and to build a strong economy. We have countless alumni who are working on the frontlines today, and who are there because of their experiences in Leadership Lancaster. All that to say…
Leadership Lancaster itself is not on the front lines of the pandemic. However, we are on the front lines for the helpers. We are in the unique position of being the helpers to the helpers, as are you.
It is so easy to think of nonprofits as a one way street of altruistic good. Nonprofits create and send goods, services, etc. to those in need, and that's the end of it. But that's not the case. Nonprofits work because of a collective good; we cannot do it alone. Nonprofits need the community to support them to do the work they do. This isn't new. This has always been true.
What is new is that community leadership and support is needed now more than ever. For those of us who are not on the front lines, we are needed to support the front lines. We are needed to cheer them on with our pots and pans in support. We are needed to pick up extra goods at the store for those safely distributing goods to our neighbors in need. We are needed to be healthy and serve where we are can. We are needed. We are needed. We are needed!
Our community leadership has chosen to endlessly embrace a mentality of abundance, rather than one of scarcity. We are rich in collaboration, courage, and hope. We are rich in people who want to make a difference, even if we are not on the front lines. We are rich in community.
That's what we hope to share with you every week; we hope to provide you with opportunities to be the helpers to the helpers, and to be a source of all the optimism and good upon which Lancaster has always prided itself.
Each week we will feature a nonprofit providing services, some ways for us to help the helpers, and a bit of local inspiration. Below is our first installation.
We hope this brings you some purpose, optimism, and abundance!
Nonprofit Service
Tabor-LHOP Resource Guide
Tabor/LHOP has been working tirelessly to support families and individuals in need of financial and housing support during this uncertain time. If you or a neighbor is in need of their support, please use and share Tabor/LHOP's resource guide here and visit their website for more details. They are here for you!
Help the Helpers
Supply Donation  
Milagro House and Clare House both provide services to women and children in need of housing and food. During the COVID-19 pandemic, they have decided to team up to meet the needs of the people they serve. They have created Amazon supplies wish lists various supplies such as water, vitamins, books, diapers, coloring books, etc. Look at their lists here, Milagro House and Clare House.
Medical Donation
For those of us who are feeling healthy, Penn Medicine Lancaster General Health is accepting blood donations. Click here to schedule your appointment.
Personal Donation 
Lancaster Cares Covid Response Fund hopes to raise $1,000,000 to address food security, housing support, and other emerging needs as a result of COVID-19. The Fund is an initiative of the Lancaster Community Foundation and United Way Lancaster. Click the link here to learn more about the fund and its services.
Inspiration
Last but not least, this video "Send a Rose" from LampHouse Films showcases the incredible leadership and community we have here in Lancaster. It's 3 minutes but provided our team with endless inspiration. We hope you enjoy it as much as we do.