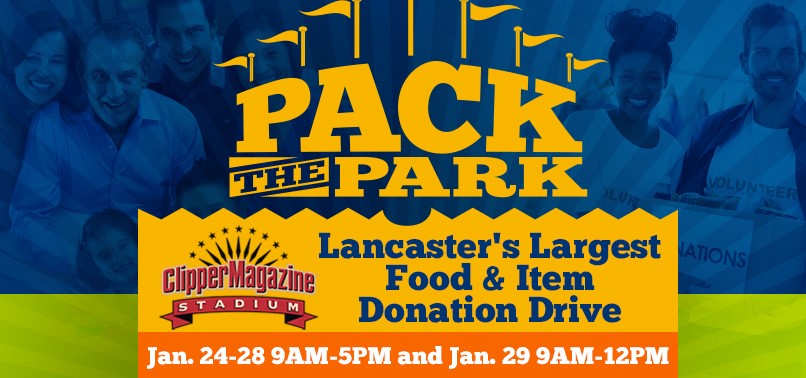 The Lancaster Barnstormers baseball team is hosting its second annual "Pack the Park," a donation drive benefitting the Lancaster County community, from Monday, Jan. 24, through Saturday, Jan. 29, at Clipper Magazine Stadium.
Billed as "Lancaster's largest food & item donation drive," Pack the Park will accept a variety of items at the stadium (650 N. Prince St., Lancaster) from 9 a.m. to 5 p.m. Monday through Friday and 9 a.m. to 12 noon on Saturday.
Eligible donations range from non-perishable foods to hygiene items such as toothpaste and hand sanitizer. All clothing items donated should be new, said Maureen Wheeler, Director of Community Relations.
There is especially a need for T-shirts, thermal underwear, thermal socks, pants (both men's and women's sizes medium, large and extra-large), boots and hand and foot warmers, she said.
Last year's inaugural drive brought in more than 15,000 pounds of donations collected and distributed to local nonprofits, said Wheeler.
The donations from this year's drive will be supporting non-profits such as Crispus Attucks Community Center, Tenfold, Peter's Porch – Zion Lutheran Church, Career Link, Community Food Bank of Mount Joy, Solanco Food Bank, Northern Lancaster Food Hub, Lancaster County Food Hub, and Power Packs.
While the Barnstormers baseball team is the event's sole sponsor, Giant Foods has donated volunteer time and food, said Wheeler.
Kegel's Produce has also pldeged a food donation and Hess Brothers is supplying boxes for donation storage, she said.
Any local food bank not signed up for the drive is welcome to contact Wheeler to get involved.