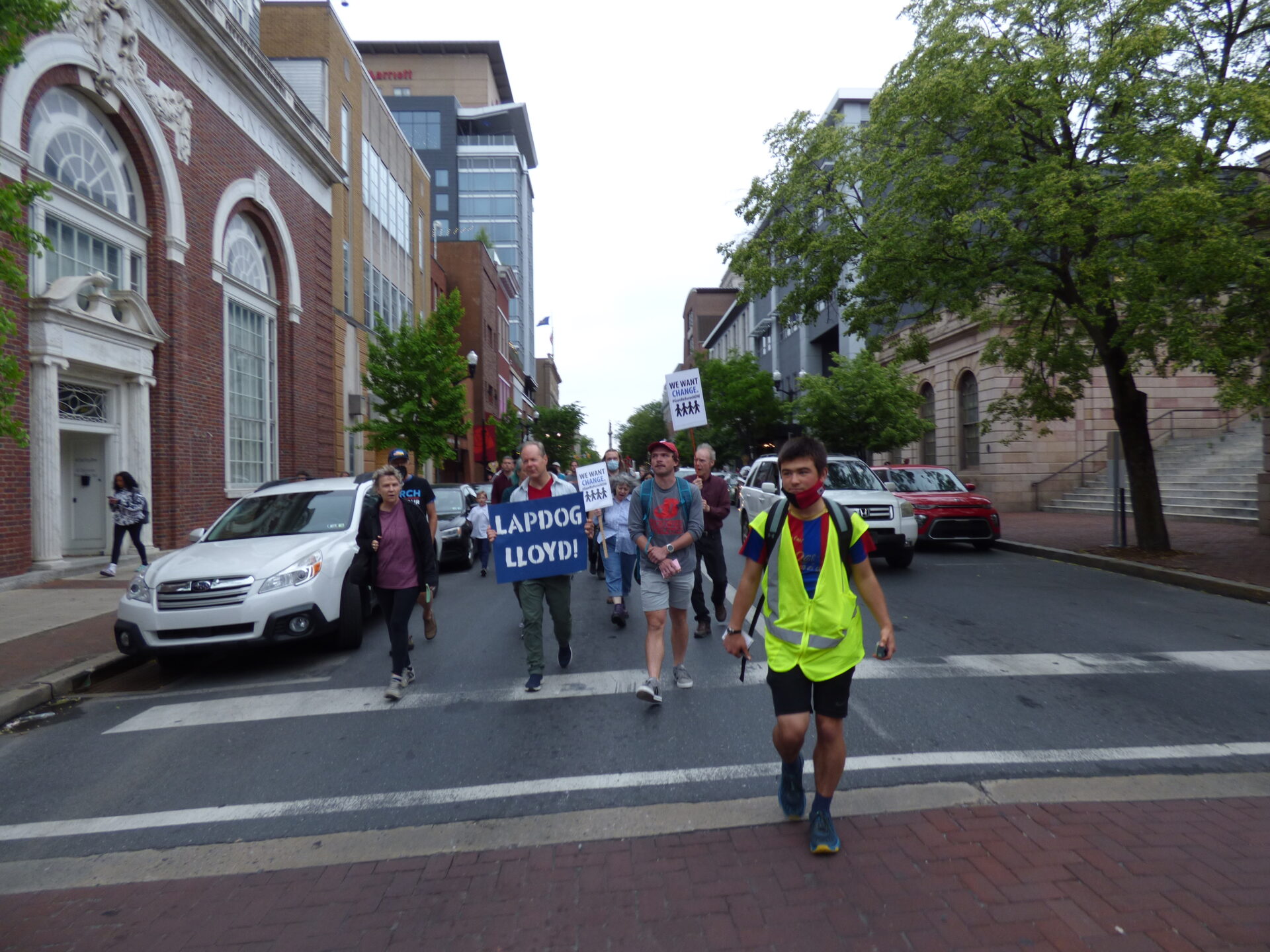 More than 100 people gathered Thursday evening in Penn Square to mourn two recent mass shootings and call for action to stem gun violence.
"We're longing for a better world," said the Rev. Matt Lenahan of Zion Lutheran Church in Akron. He is a member of POWER Interfaith, which organized the vigil in partnership with progressive advocacy group Lancaster Stands Up.
Afterward, many of the participants marched down East King and South Duke streets to U.S. Rep. Lloyd Smucker's Lancaster office, where they posted handwritten note cards on the doors calling on the Republican Congressman to support gun control legislation.
The march took place in the vehicle lanes rather than the sidewalk, prompting a smattering of honks from the cars behind it.
The vigil and march were prompted by Tuesday's school shooting in Uvalde, Texas, where an 18-year-old wielding an assault rifle murdered 19 children and two teachers. It was the third deadliest school shooting in U.S. history, and came less than two weeks after the May 14 mass shooting in Buffalo, N.Y., where a self-described White supremacist, age 18, killed 10 Black people.
Lancaster Stands Up's Suzy Wurtz said the organization is calling on Congress to pass universal background checks and a ban on assault rifles, and to repeal the Senate filibuster if needed to advance the legislation.
Smucker and other legislators, she said, refuse to address gun violence and are beholden to the gun lobby. She noted that Smucker received a little over $200,000 from the National Rifle Association from 2016 through 2018.
Smucker's office did not immediately return a call for comment. In 2019, he voted against bills to broaden background checks and lengthen the FBI's period for conducting them.
His website describes him as "a strong supporter of our 2nd Amendment rights" and touts his support of bills to permit interstate concealed carry reciprocity and to preempt state taxation and registration requirements for silencers.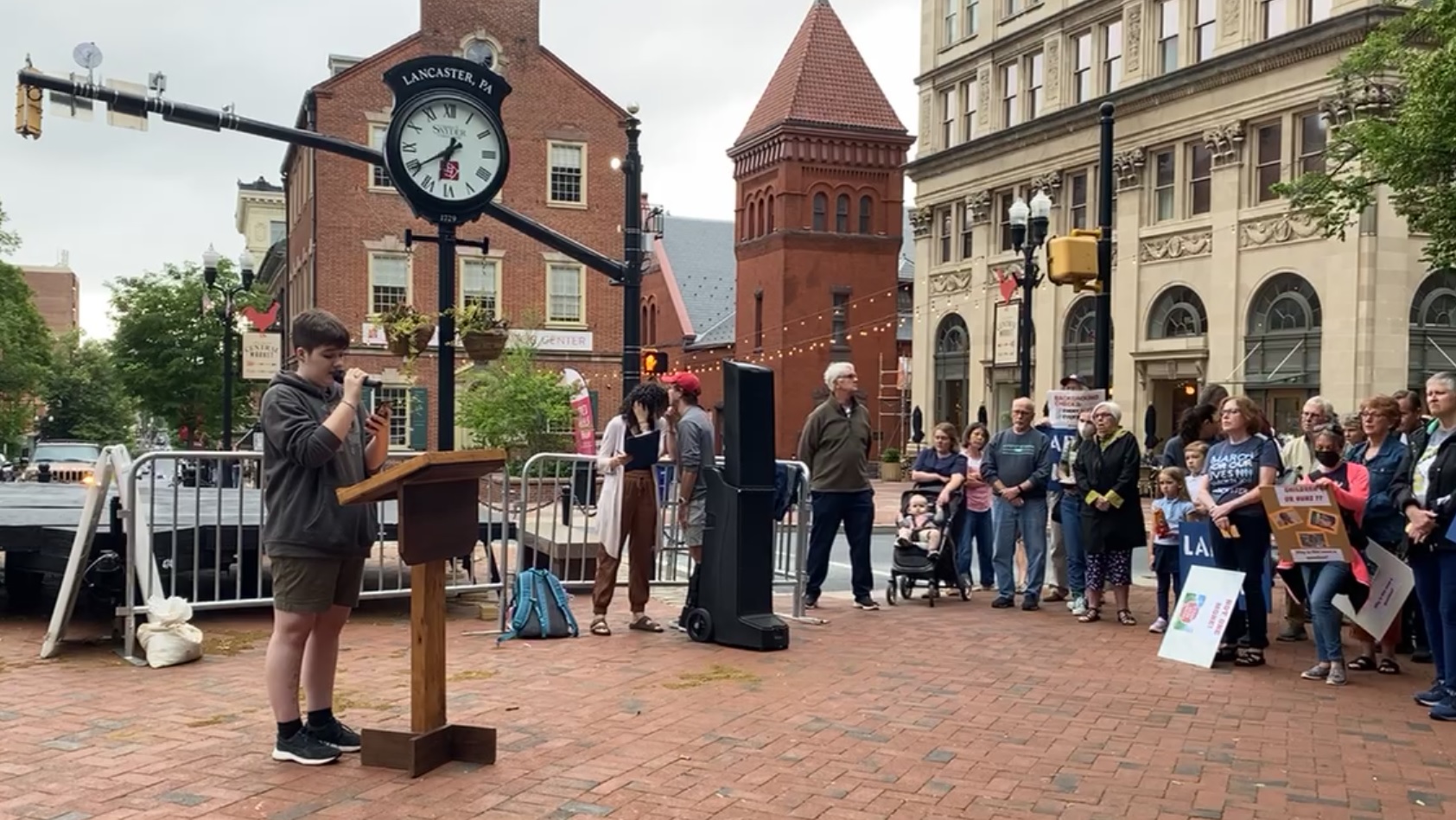 Lenahan read the names of the Uvalde and Buffalo victims. He called on those present to work together toward a world in which children are safe from gun violence, closing with a reading of Maya Angelou's poem, "Alone."
History teacher Eugene Johnson said he begins every school year by assessing where students will be able to hide in his classroom in the event of an attack. Student Kai Esbenshade described school mass shooter drills, in which children are told to identify desks as shields and pencils as potential weapons.
"No kid should fear school," Esbenshade said.
Fighting tears, teacher Sophie Xiong called on Generation Z to change the world, and said other generations must pitch in. She led the crowd in a chant of, "All of us means all of us."
"It's our duty as a community, as Lancastrians, as a nation, as a people, to make that change happen," she said.
The U.S. has vastly more firearms deaths than any other developed country, Researchers say measures such as universal background checks could reduce firearm deaths, but the political power of the gun lobby makes any move toward tightening restrictions extremely unlikely.
Gun policy is one of the country's mostly deeply divisive issues. In 2021, the Pew Research Center reported that 81% of Democrats and left-leaning voters say gun laws should be stricter, while 80% of Republicans and right-leaning voters say they should be left alone or relaxed further.
(Editor's Note: This article initially misstated the generation referenced by Sophie Xiong in her comments.)
Photos