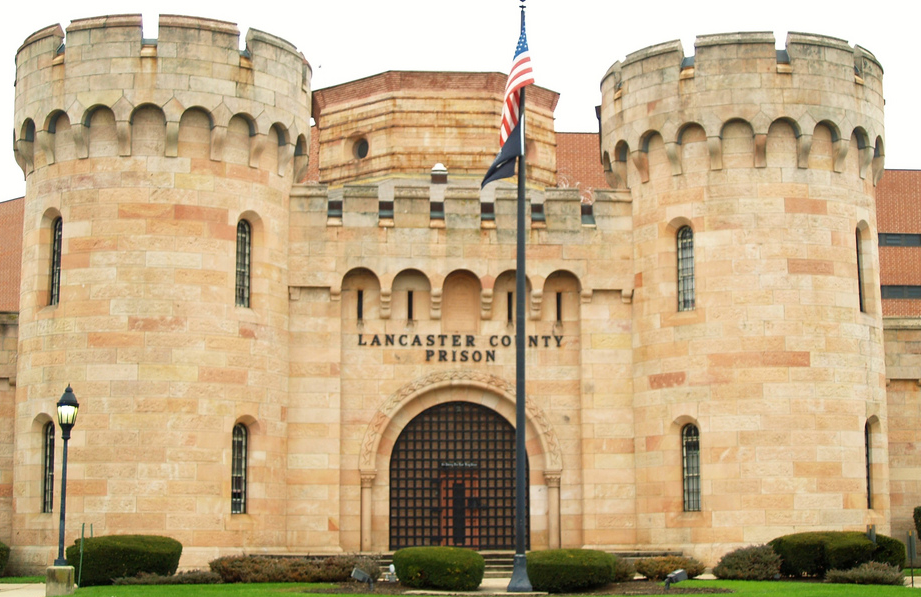 UPDATE: At their Wednesday morning meeting, Lancaster County commissioners approved a plan to pay $7,500 bonuses to new hires at the County Prison and retention bonuses of $7,500 to 12,500, depending on seniority.
The vote was 2-0, with one abstention. Commissioners Josh Parsons and Ray D'Agostino voted in favor. Commissioner Craig Lehman abstained, saying he objected to the his colleagues' lack of transparency in withholding a copy of the draft plan from a member of the public who requested it at Tuesday's work session.
"I cannot stand behind the process," Lehman said.
A local resident and reporters from LNP and One United Lancaster all had verbally requested copies of the draft plan at Tuesday's meeting. County Administrator Larry George emailed the plan to the reporters Tuesday afternoon, but apparently was not aware of the resident's request.
Parsons said the draft plan was marked "confidential," so he had wanted to consult with the county solicitor before releasing it. He accused Lehman of engaging in "mental gymnastics" to find a rationale for not supporting the prison and its staff, calling that "sad."
What's sad is the board denying a member of the public's legitimate request for access to information, Lehman retorted.
Between Tuesday's meeting and Wednesday's, the draft plan was formalized in a side agreement with the corrections officers' union. That document is included in the packet for Wednesday's meeting on the county's public accessible meeting website.
Previously reported: 
At their meeting Wednesday morning, the Lancaster County commissioners will consider a proposal to use $2.4 million dollars in federal American Rescue Plan funds to pay hiring and retention bonuses to County Prison staff.
As discussed last week, the bonuses are an attempt to offset an "unprecedented" staffing shortage that is jeopardizing prison operations and the safety of inmates and staff, county Administrator Larry George told the commissioners at their Tuesday work session.
Budgeted for a staff of 228, the prison has 65 vacant positions, George said, up from 62 last week. Staff members are working more and more double shifts, and it's affecting morale, he said.
According to a copy of the draft plan provided to One United Lancaster, new hires would be paid bonuses totaling $7,500: $1,000 after they complete their 90-day training period, $3,250 after 180 days of service, and and another $3,250 after completing a full year.
Existing staff would receive retention bonuses: $7,500 for individuals with up to 3 years of service; $10,000 for those with 3 years to 10 years; and $12,500 for individuals with more than 10 years. As with the new hires, the bonuses would be doled out in stages.
The proposal indicates that 203 existing staff members would be eligible: 190 corrections staff and 13 treatment staff. It envisions upward of 60 new hires, in line with the current vacancy numbers.
The bonuses would be considered one-time "premium" payments and would not be counted toward base pay. The corrections officers' union contract would not be reopened; rather, the payments would be made under a side agreement. That document has not yet been drafted, but the union has agreed in principle to the proposal, George said.
The draft plan notes that the agreement will need to have clawback provisions to preclude "a take the money and run scenario."
Commissioners Josh Parsons and Ray D'Agostino, both Republicans, reacted positively, saying they appreciated county staff's quick turnaround in developing the plan and would look at it in more detail before Wednesday morning's meeting.
Commissioner Craig Lehman, a Democrat, did not oppose it, but said it does nothing to address what he considers the long-term underlying problem: The prison's comparatively low pay rates.
Hourly wages there start at $18.50, versus $21.86 in Bucks County, $23.80 in York County and $21.50 in Dauphin County, according to Warden Cheryl Steberger.
Parsons disputed Lehman's diagnosis. The acute hiring shortage is a new development, he said, blaming it on coronavirus and on federal economic and employment policies that, in his view, disincentivize work.
Corrections officer Miguel Albino thanked the commissioners on behalf of his fellow officers and said he hoped the bonuses win approval. The extra pay would recognize officers' hard work keeping the prison operational and would be a "glimmer of hope" for them, he said.
If approved, the $2.4 million expenditure would be the first major draw on the county's roughly $106 million in American Rescue Plan funds, part of a Covid-19 relief package passed by Congress early this year. Eligible uses under the ARP law include premium pay to staff performing essential duties.
If the draft plan is enacted, about $700,000 would be spent on the bonuses in 2021, and the remaining $1.4 million in 2022, Budget Director Patrick Mulligan said.
The program would sunset on Aug. 31, 2022, George said, around the time negotiations would begin on the corrections officers' subsequent contract. The existing contract runs through the end of December 2022.