Covid-19 cases are continuing a gentle decline here according to the latest weekly update to Pennsylvania's Covid-19 Early Warning Monitoring System Dashboard.
Newly case counts dropped to 511 for the week, versus 557 the previous seven days, an 8% decline.
Average inpatient numbers for Covid-19 declined to 33 from 39.9 the previous seven days. As of Friday, the state indicated there were 31 Covid-19 inpatients in Lancaster County, of whom four were in intensive care. None were on ventilators.
There were eight Covid-19 deaths of Lancaster County residents from June 1 through June 11, according to state data.
Updates ending
With Covid-19 appearing to have stabilized in Lancaster County, Penn Medicine Lancaster General Health said this week it is discontinuing its weekly community data updates.
The CDC's community impact level for the county and the recommended precautions have remained the same for months, Health Promotion Specialist Brenda Buescher said in an email accompanying the final update.
The updates had been provided since summer 2020 to a broad set of community partners for use in planning their pandemic mitigation strategies and health and safety protocols.
"If conditions change, or there are changes to the recommendations for the public, we will restart," Buescher said.
Childhood vaccination
On Friday, the Food & Drug Administration authorized administering the Moderna and Pfizer Covid-19 vaccines to children six months through four years old. The Centers for Disease Control & Prevention advisory committee is scheduled to vote on the matter Saturday.
Assuming the vaccines win CDC approval, as is expected, rollout could begin next week. About 17 million children would be eligible for the shots.
On Thursday, Florida Gov. Ron DeSantis, a Republican, said his administration is "affirmatively against" vaccinating children against the coronavirus, reports Politico.
"These are the people who have zero risk of getting anything," DeSantis said.
In fact, at least 442 children aged 0 to 4 have died from Covid-19.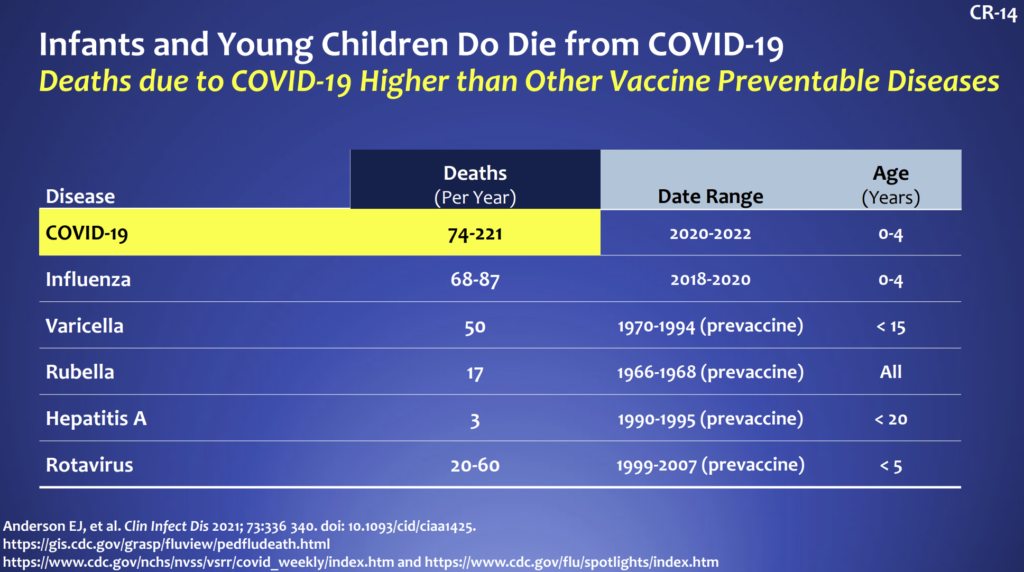 "There is a tremendous burden of disease in this age group," writes Ketelyn Jetelina, a public health researcher who writes the newsletter "Your Local Epidemiologist."
Young children were hospitalized at higher rates than their older peers during the omicron wave, and more children died from Covid-19 during the pandemic than from five other vaccine-preventable diseses, she wrote.
"We cannot become numb to these deaths," Jetelina wrote.